Eczema Restoraderm Soothing Moisturizer
Skin type: For eczema-prone, sensitive skin
This nourishing lotion is designed to protect against eczema symptoms and lead to fewer symptom flare-ups over time.
Daily use lotion soothes itchy, irritated skin, boosts hydration, and improves the resilience of sensitive skin over time
Clinically proven to improve skin's moisture levels in as little as 2 hours and continue to hydrate for a full 48 hours
84% of users noticed fewer eczema flare ups with continued use
Dermatologist tested and clinically proven to be gentle on sensitive skin
FEATURES
This soothing lotion with 1% skin protectant colloidal oatmeal helps relieve minor skin irritation and itching caused by eczema. Patented, naturally derived Ad-Resyl is specially designed to help restore a damaged skin barrier and support a healthy microbiome, while the proprietary filaggrin technology locks in hydration and helps strengthen the skin's barrier against environmental irritants. Free of parabens, fragrances and steroids, this gentle moisturizing lotion is dermatologist tested and accepted by the National Eczema Association to be suitable for sensitive, eczema prone skin. For best results, use as the 3rd step in your eczema routine to maintain a hydrated, healthier skin barrier and prolong time between symptom flare-ups.
Fragrance free

Paraben free

Hypoallergenic

Won't clog pores

Dermatologist tested

Steroid free

Defends against 5 signs of skin sensitivity

Received the NEA Seal of Acceptance™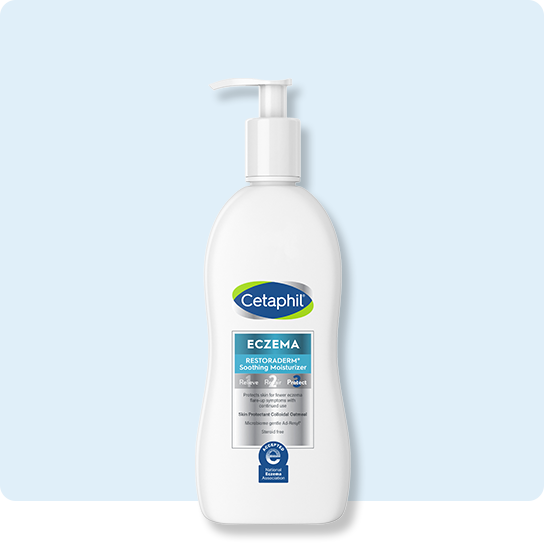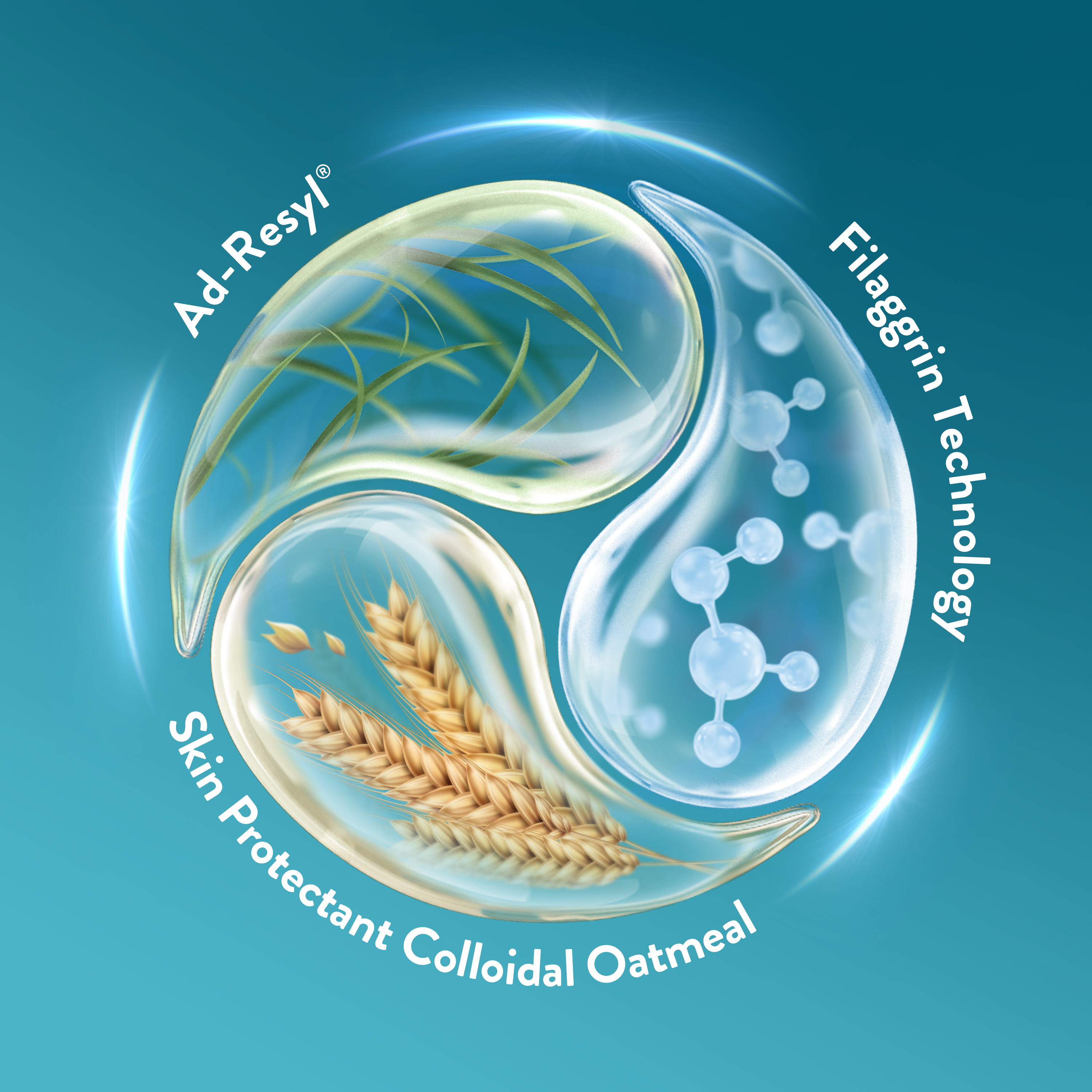 INGREDIENTS
Active Ingredient: Colloidal Oatmeal 1%
Inactive Ingredients: Allantoin, Arginine, Behenyl AlcoholButyrospermum Parkii (Shea) Butter, Caprylic/Capric, Triglyceride, Caprylyl Glycol, Ceramide NP, Ceteareth-20, Cetearyl Alcohol, Cetyl Alcohol, Citric Acid, Cyclopentasiloxane, Dimethiconol, Disodium EDTA, Disodium Ethylene, Dicocamide PEG-15, Disulfate, Glycerin, Glyceryl Stearate, Glyceryl Stearate Citrate, Helianthus Annuus, (Sunflower) Seed Oil, Niacinamide, Panthenol, Pentylene Glycol, Sodium Hyaluronate, Sodium PCA, Sodium Polyacrylate, Sorbitol, Tocopheryl Acetate, Water.
Wash with a gentle, hydrating cleanser
Start your sensitive skin care routine with Restoraderm Soothing Wash, clinically proven to gently cleanse sensitive skin and boost hydration for a full 24 hours after washing. This creamy, soap free foaming cleanser is mild enough to use daily on body, hands and face.
Soothe itch and repair irritated eczema prone skin
After cleansing, follow with Restoraderm Eczema Soothing Moisturizer for dry, itchy, irritated skin. This creamy lotion hydrates the skin and locks in vital moisture, helping to strengthen and protect skin for 24 hours. The non-greasy formula absorbs quickly to instantly soothe skin discomfort caused by eczema.
Dermatologist developed and NEA endorsed for sensitive skin
The Restoraderm range of products are dermatologist tested and clinically proven to be gentle yet effective on sensitive skin. Paraben free, fragrance free and steroid free, this soothing wash and lotion regimen have been endorsed by the National Eczema Association as gentle for eczema prone skin.